My family and I went on a two-week trip to Italy to celebrate my mom's 60th. It has been months since the trip. If you missed the previous posts on Italy, find them all here.
We entered Italy through Rome, stayed 5 nights then headed to Florence. The third city on the itinerary was Venice.
We had really good hotels in Rome and Florence. In Rome the Sofitel Rome Villa Borghese was home for 5 nights. It is 10 minutes away from the Spanish steps by foot. In Florence, we were booked at the Lungarno Apartments which is part of the luxury Lungarno Collection, managed by the Salvatore Ferragamo family. Since we were celebrating my mom's 60th, we stayed in one of the best hotels in Florence. It is located right by the Arno River and 5 minutes away by foot from the Ponte Vecchio. My brother-in-law booked these hotels.
In Venice, I booked the apartment. I found it from the apartment company that we used to book apartments in Barcelona and Madrid. The apartments in Barcelona and Madrid were really nice. The one in Venice was an epic fail. It was located in a very nice non-tourist location which was great! It had four floors but the two bathrooms were located in the  ground floor. Now I know that I should  always ask where bathrooms are located. The other "bathroom" wasn't even a bathroom. It was a laundry area and a shower and sink were added. The water was either too hot or too cold so it was difficult to shower. It was a good thing, we only stayed two nights. We all looked forward to the Armani Hotel in Milan.
I am not allowed to book a hotel or an apartment anym
From Florence, we took the Tren Italia to Venice. It was about a two hour trip. Someone was bored.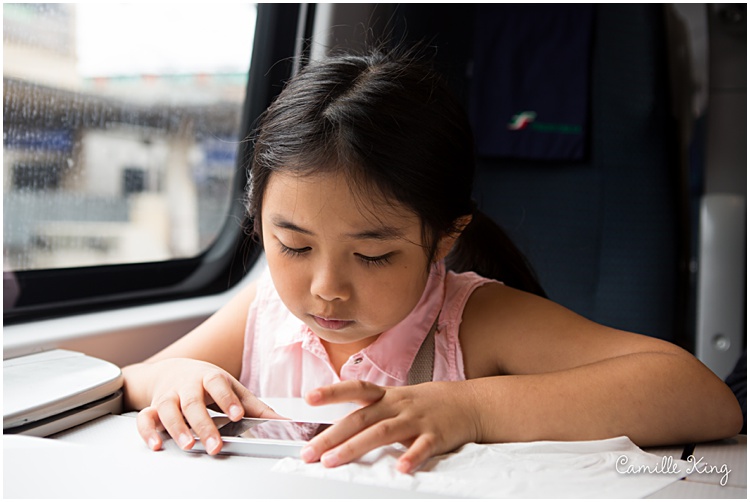 Our venice apartment. Sophia and I were assigned the room at the 4th floor – ako kasi pumalpak.

The vicinity of the apartment. It was in a really nice, residential location. See? No tourists!




We had no tour for the day so we went around on our own.









Saint Mark's square.

It is against the law to feed the pigeons. Anyone caught doing so will be fined 50 euros so Sophia tried to catch them instead.

She had so much fun even though she did not catch any.


We had reservations for dinner but we couldn't find the restaurant. Venice streets are so confusing! We found it eventually but lost the table. We were only late by one minute. No Filipino time here!
We were cold, hungry and tired so we just went with a restaurant we came across. After dinner, we had Grom Gelato. This is the best gelato I have ever tasted.



Then we took the Vaporetto (public water bus) back to the apartment. These are photos I took while on the ferry. Venice night scenes.


We were so tired that day. I remember we had to roll our Rimowas from the water bus stop all the way to the apartment when we arrived. It was a look walk! We crossed several bridges. We had one check-in luggage plus one carry on each – total of 10. The streets are cobblestone so we made so much noise while rolling our suitcases. We may be the reason why wheeled suitcases are now banned in Venice.
The Rimowas are so sturdy. They survived the streets of Venice.
Posting more photos tomorrow. I have to finish posting all travel photos before our next trip. We have a destination in mind but nothing final yet.