Valentine and this blog post has been on my mind lately. I see pink, red and hearts everywhere. My friend sent a message that we should meet up for HH and I assumed the letters were short for happy hearts a.k.a. Valentine's day. Upon clarification, I learned that HH means happy hour.
Valentine's day is less than a week from now. If your kids don't have Valentine portraits yet or plan to post just a few photos on Instagram, it isn't too late to do it yourself. Follow these simple steps for creating cute Valentine portraits.
I mention a few brands in this blog post. I was not compensated to include these products here nor did I receive any gifts in kind from any of the brands. I still mention them in my humble little blog if I feel my readers (my mom and two other family members, lol!) may want to know where I got them. These are products I personally use and consume.
1. What is your vision? Determine your specific theme.
This is the planning stage. It does not have to involve a lot of time and can be completed in a few minutes. Examples of specific themes related to Valentine are hearts, kisses. Determine your color palette. It does not have to be limited to pink or red. Determine the location for the shoot. Do you prefer indoor or outdoor? Determine if styling will be elaborate or simple.
2. After deciding on a concept, find props to match it. 
Styling does not need to be elaborate and simple props will work. There is no need to DIY any of the props. Less is more. There are many ready to use options in the market. Styling includes the outfit of the subject/s.  I recommend using items that aren't really props but are usable or consumable items. Don't spend on items what will only be used once. Think about it, it will be another thing to store at home if it will only be used as a prop.
I chose heart as a theme for this session. I found the perfect sweatshirt with a big fuzzy heart from P.S. by Aeropostale. The denim cut-off shorts are from Aeropostale too. I made sure that Sophia liked the outfit and is something she will really wear.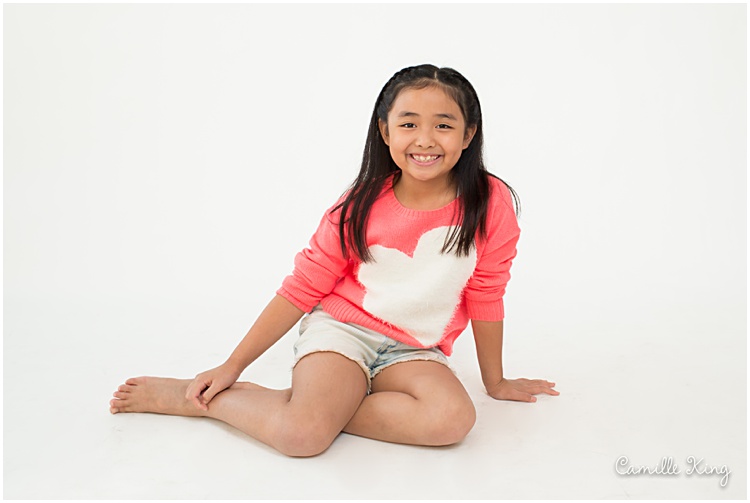 Heart-shaped donuts from Krispy Kreme is another option. The red dress is from Elin.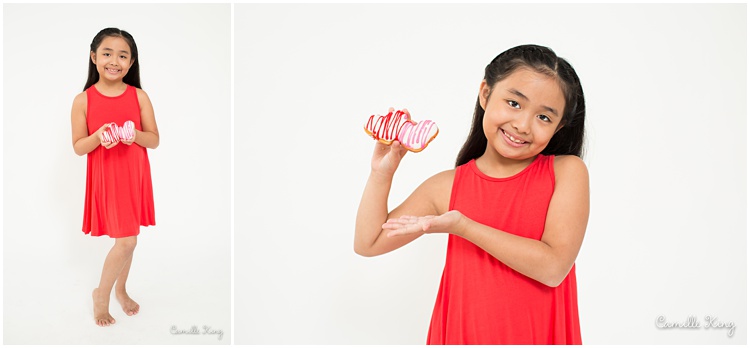 Kiss and hug donuts from Krispy Kreme.
Who wants a kiss? Another option for a prop – giant Hershey's Kiss. I found this in Rustan's Marketplace.

3. Find the light and get shooting.
After gathering the props and outfits. Look for a window with natural light. This is to beautifully light the subject from the side. No to artificial (unless you have a set of strobes or a speedlight and you know how to use them) and overhead light. Why? Find out in this tutorial here.
I used mainly artificial light in all the photos here but added light from an off-camera speed light to lift shadows. Flash is not necessary if you have good window light. Light is very important even if the photo is just for Instagram.
In addition to window light, have a clutter-free background. You don't need seamless paper but remove anything in the background and foreground that detracts focus from the subject.
4. Engage with your subject and capture different poses.
No to straight as a soldier poses. Ask your subject to bend whatever can be bent (knees, elbows, wrists, neck). Capture different poses for interesting images. Engage with your subject – talk to them, ask them questions, make them laugh to get cute smiles and expressions.




5. Select photos. 
Select a few good photos. Don't do as I do and do as I say. I am guilty of posting a lot photos like above. Delete the crappy ones and the out of focus ones (aka blurred).
6. Share your photos.
Upload them on Facebook, Instagram or Twitter. Email them to the grandparents. Don't forget to print them out.

Hope you learned a thing or two. Thanks for dropping by!