I haven't missed a Tip Tuesday post since I started this project. Yay! Thank you, dear readers, for always visiting and looking through my photos. You keep me going and inspired.
I was scrapbooking years before I learned photography. I placed photos in scrapbook lay-outs with pretty paper and embellishments. More than the pretty paper, it was important for me, to document both the big events and the everyday.  It was important that my lay-outs told stories that make me go back to a moment in time. There were times when I could not complete a lay-out because my photos did not tell a story. As such, I made an effort to capture photos that tell a story.
Recently, a lot of my photos show a posed little girl with a cheesy smile. These posed images, while still pretty, lack the storytelling aspect. When I capture only these types of images, i feel sad because it is not the reason I got into photography.
For this week's Tip Tuesday photos, I slowed down with photo taking. I made a conscious effort to capture images that would tell a story. The best part about story-telling with photos, I don't have to write a lot . I dislike writing and I make a lot of grammatical errors. My mom edited last week's Tip Tuesday post.
Please join me in this journey as I try to capture the story of this everyday activity. Let's walk through the process together as I need a review too.
For these photos, I did not pose Sophia. I did not touch any of her things. I kept things as is to keep it real (except for her hair, I had to tie it back).  I badly wanted to remove the red bean bag but left it. I  watched and observed. If she is smiling in any of the photos, she interacted with me and merely I captured that moment.
Every story has a beginning. In fairy tales, it begins with once upon a time, in a far away land, lived a princess. It opens with the place, time and character.
My opening photo.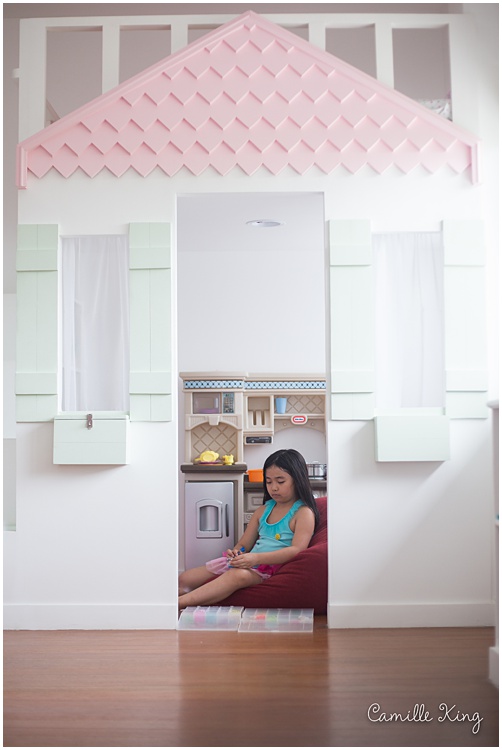 Place: Girl's room
Time: Day
Character: Little Girl
Another photo but closer this time to give the viewer more details, to see what is happening. I placed the camera on the floor here and got down to Sophia's level for an intimate view.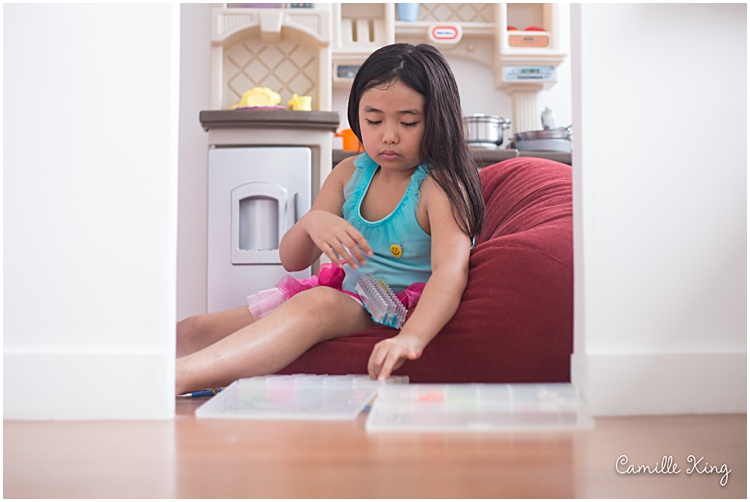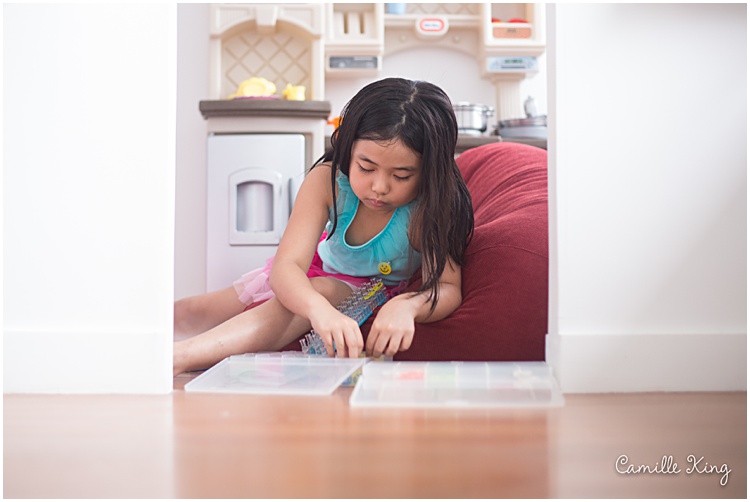 I couldn't see what was inside the plastic containers so I took another photo to show the contents.

I wanted to capture an outsider looking in type of photo here but she looked up and smiled.

A photo does not have to show the face. I captured this from above. My goal was to show Sophia's legs – how they look, how she positions her legs when she is working on something. She has a lot of dark spots on her legs due to mosquito bites. This is keeping it real.

Details to support the story.




And she smiled at me again. I love that this photo shows how her teeth look at this age.

I took photos of the little events happening to support the theme (creating rainbow loom art).


I watched, observed and waited patiently to capture different expressions from Sophia. If there is more than one subject, wait and watch for interactions between them (a hug, laugh, etc).

I love this.


We normally see the world at eye level. Shoot from different angles for an interesting perspective – above, below, from the side. Remember, your subject does not have to be looking at the camera.

But she looked here which is fine by me.

She was showing me the rubber band that broke.



I focused on her hands and the item she was creating. I included the background with details as well. I like this photo and I think it will work well on its own.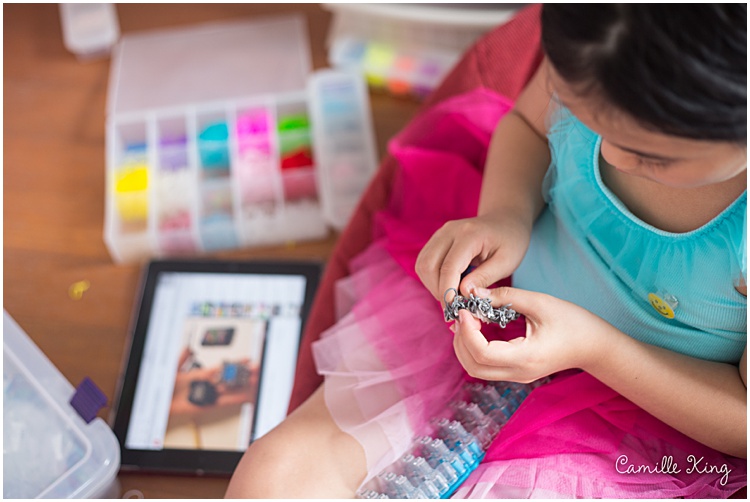 Oops! Sorry this one is posed. The finished product. It is a tv monitor.

A photo with the finished product in focus.

A photo taken a few seconds apart but this time, with Sophia in focus. This is called depth of field and a different topic altogether.

I included this to show where Sophia stores all her loom creations.


Every story has an end. It was a happy ending for us because photo taking was stress free.

Thanks for taking this journey with me. It's your turn. Time to take those story telling photos.