It has been quiet here in my blog. I am working on several different projects, Sophia went back to school in June with other things happening at the same time so I am always tired. Anyway, I am finally sharing travel photos from Stockholm and Copenhagen from last summer. I wasn't able to share them earlier because I lost them. I was able to recover all of them but I will share that story in another post.
We flew Qatar Airways, awarded the world's best airline for 2015 by Skytrax . We were on business class too. Woohoo! Last year, we took Emirates to Rome and I loved everything about it. Read about that experience here. I wanted to take Emirates again but my brother-in-law said that Qatar is so much better.
We departed Manila on labor day, 6:35pm. Qatar leaves from Ninoy Aquino International Airport Terminal 1. The condition of the airport is better this year as compared to last year. Renovations were completed, airconditioning was working with a bigger MIASCOR lounge.
Now I can compare the business class service of Qatar Airways and Emirates Airlines but still from the point of view of a person who still travels on economy 95% of the time. It won't be fair to compare the two airlines because I flew on different years. I also don't remember details from the Emirates flight so this review is just for fun.
As soon as Sophia and I entered the aircraft (Boeing 777), we handed our boarding passes to the flight attendant waiting by the door. She saw that we had business class seats so she immediately took our carry-on luggage and led us to our seats. She also stowed our luggage on the overhead storage bins. I can't remember if we got the same service from Emirates.
I was seated in 2E.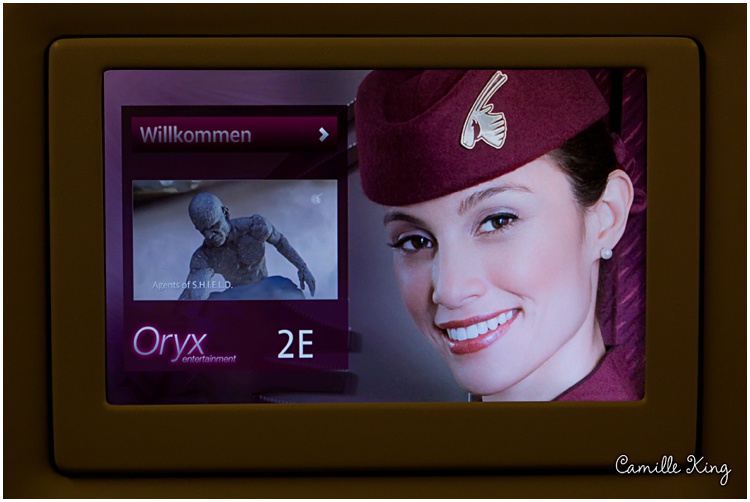 Sophia was seated on my right. Here she is showing her baon. Okay, so I am not happy with lighting in all my photos here. Airplanes have really bad lighting conditions.
If I remember correctly, the Boeing 777 has 24 business class seats – 6 seats per row with 4 rows total. So much leg room. The seats lie flat like a bed. There is no first class service from Manila to Doha, the hub of Qatar Airways. Emirates also does not have first class service from Manila to Dubai (hub of Emirates). Both airlines use Boeing 777 from Manila to their hubs so I would say seat comfortability and leg room are the same. There are some minor differences in seat configuration though.
Emirates provided mattresses while Qatar did not. But Qatar provided pajamas. I just didn't know how to change into them so I didn't use it. I think I know why Qatar does not provide mattresses but will give theory later on in this post.
We were offered welcome drinks of Champagne or Orange Juice, just like in Emirates. I took the champagne of course. Sophia had orange juice. I liked the OJ of Emirates better as it was fresh with pulp.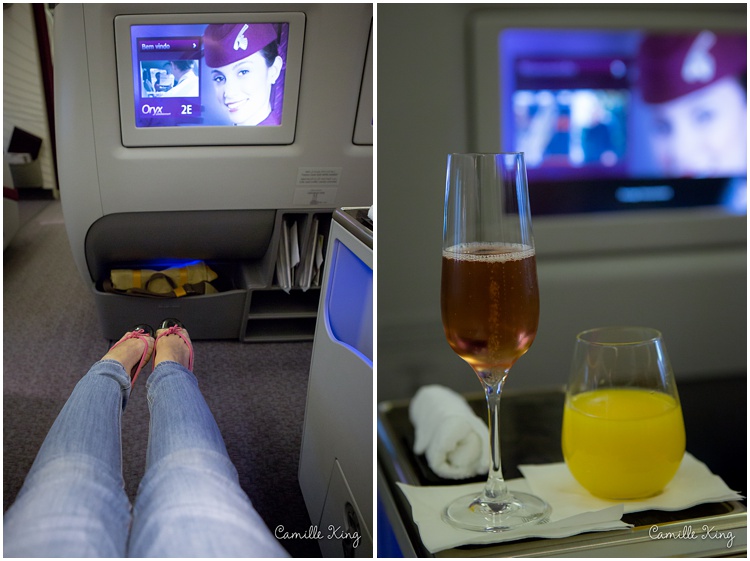 My sister and her husband were seated one row behind us. I don't have a photo of my mom because she was in the row in front of us, Row 1.

The seat remote control. See it can be converted to a bed. Heaven! There are two buttons above the + and – buttons which I think are the reason why mattresses are not provided. These control the massage option of the chair. If there is a mattress, the passenger will not feel the massage vibrations. Sophia and I kept on using the massage feature.

The in-flight entertainment system of Qatar Airways is called Oryx while Emirates is branded as ICE. Both systems have so many movies, documentaries and shows so I would say they are equal.

The in-flight entertainment remote control.

The flight time from Manila to Doha was a little more than 8 and a half hours with a distance of 7,572 miles (Manila to Dubai was about 8 as well). I was so comfortable in my seat. I knew 8 hours wouldn't be long.


Amenity Kit provided was Giorgio Armani. Emirates was Bulgari.

The food and beverage menu. Meals can be taken at any time and in any order just like Emirates.



Bread and butter. Appetizer of shrimp cake served with a sweet chill sauce.

Arabic mezze.

Sophia ordered the Pasta – cream based. It was good! I had the beef on the right. It doesn't look appetizing but it was good. It tasted like Kare-kare. Haha!

For dessert, chocolate cake which was okay, nothing great. I had a cappuccino and chocolate was served. Just like in Emirates, all meals were plated. For food, I preferred Qatar over Emirates. In terms of service, I would say they are the same.

We arrived in Doha Hamad International Airport at 10:50pm. Connecting flight for Stockholm was at 1:30am. The business class lounge of Qatar in Doha is smaller than Emirates but still large. Food and drink were served. Bathrooms and toilets were very clean. Toothbrushes and toothpaste are not readily available though and must be requested from the staff in the toilet unlike in Emirates where clean toothbrushes were on baskets in the sink area.

Evian was provided in every seat in the business class lounge. There were touch screen monitors as well and electrical outlets in every seat.



What we didn't like about Qatar was that the gate is very far from the lounge. We didn't hear the boarding call and we almost got left behind by the plane. We were running to the gate! In Dubai, the business class lounge has access to the gate.
The aircraft from Doha to Stockholm (Arlanda Airport) was a Boeing 787 Dreamliner. Whoa! It was huge! I don't have a photo because I didn't have time to snap a photo.
Flight time was a little less than 6 hours. Too short when travelling on business class. Distance from Doha to Stockholm is 4,620 miles.

Here is the flight map for a visual.

I didn't take much photos during the flight. This is the seat control. The chairs also convert into lie-flat seats.

The seat configuration in the the Dreamliner is similar to the A380 where seats are like a cove. Sophia watching a movie and having breakfast of Muesli.


A photo a took outside the toilet. Toilets were so clean!
Just some flare from the sunrise. We were approaching Stockholm already.




We landed in Stockholm Arlanda International Airport at 6:40am in the morning. We went through immigration and customs then took two Arlanda Express Train to the city. From the train, we rode two taxis to get to the hotel. We should have just taken a large taxi/van from the airport instead of taking the train as it would have been cheaper.  There is always a next time, I hope!
Emirates provides car service from the airport to the hotel and vice versa for business and first class passengers (included in airfare already if within 40 miles) while Qatar does not.
Overall, I think Qatar is better than Emirates but Emirates is not very far behind, ranked as fifth world's best airline by Skytrax. For me, I don't really care what airline or service class I take as long as the aircraft is safe and clean. I am always thankful and appreciate any opportunity to travel as it is a time to be with family, discover new places, learn about art/culture and or course, eat!
Hope you enjoyed this post. Will post photos of Stockholm soon. Thanks for dropping by!