Welcome to my room/studio. Renovations were completed more than a year ago but interior decoration is still a work in progress. I am only showing one side of the room because the other side is a mess.
On the left is the sitting area and coffee table.
The table in the middle is a shooting table. It comes with three interchangeable table tops – white, natural and dark brown for different looks. Cool, right? It was custom made by our contractors using old wood from our ceiling. It has a matching bench on the right. The table comes with two Narra wooden chairs but these are with the upholsterer.
The wooden crate was upcycled from old wood from our ceiling.
On the right, attached to the wall is a wall mount for seamless paper (for studio backgrounds). It can hold four rolls. I only have three right now – white, blue and yellow. I will add one more – most likely pink.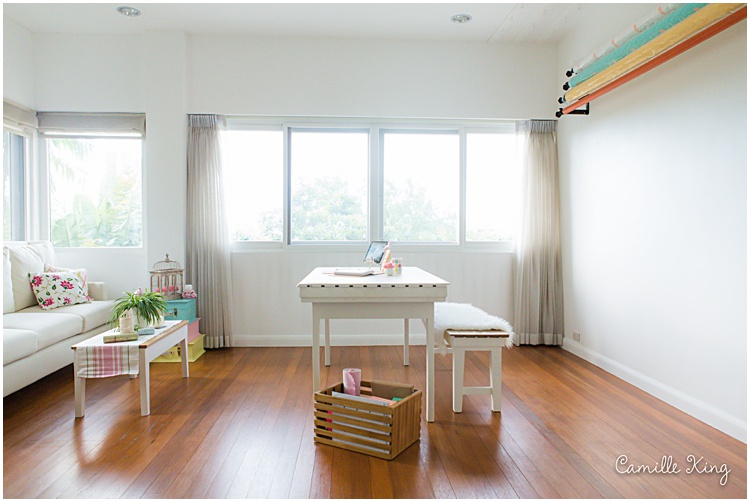 The bird cage is a recent purchase. I got this from Michael's Arts and Crafts store and the best part, it was 60% off. I placed this inside my check-in luggage. I made sure to wrap it well. I styled the bird cage with fresh flowers.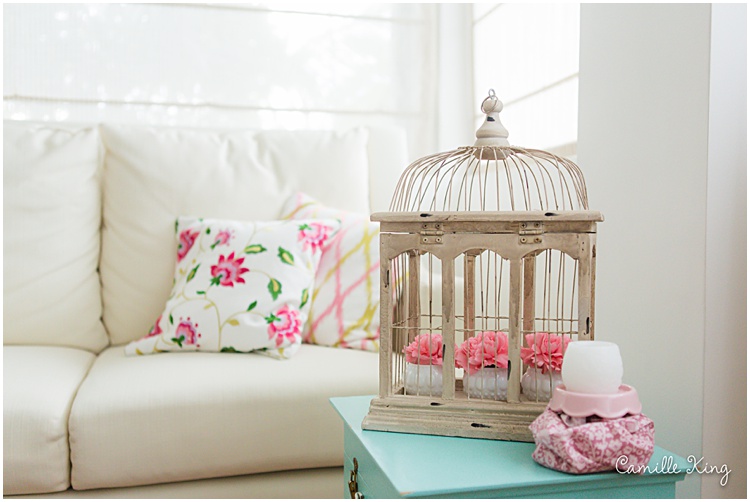 See the cute pastel colored luggages? Those are props from a window display of Forme. I asked if I could purchase them after the window display period. If you see any props in window displays of boutiques, just ask the store manager if they are for sale. Most likely they will be after the display period and at a good price too.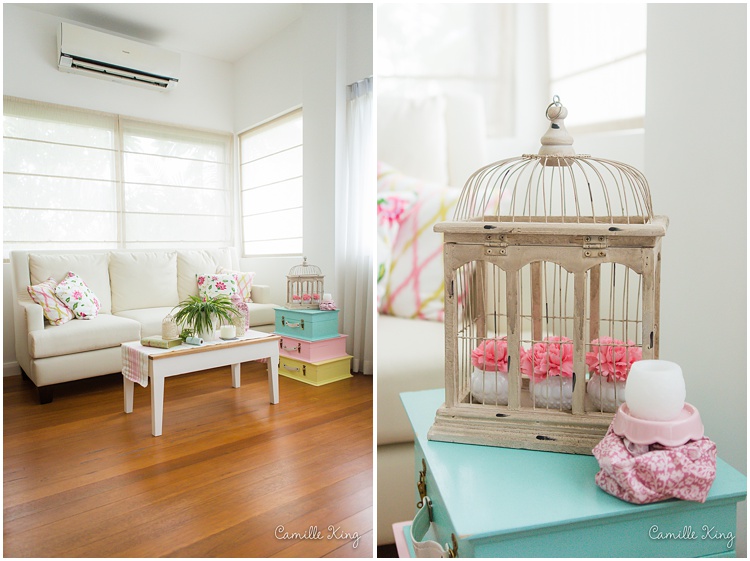 White lanterns and plant holder from Robinsons Department Store in Galleria. The fake book on the left was the packaging of Tea. The white candle is from Adora, Greenbelt – Maison Francis Kurkdjian candle. The cute pink lantern is from Ikea, a recent purchase from the San Francisco trip.
Fabric from throw pillows are from Larry's Megamall.

View from the sitting area.

Wall mount for the seamless paper. The lowest holder is still empty.

The crate holds gifts from my photography teacher, Karen Russel. I joined another of her workshops. This latest workshop is called A Year in the Making. It starts today online and ends with an in-person workshop in Oregon in June of next year. As part of the workshop, participants receive gifts every month from Karen. We are only allowed to open each gift on the date indicated on the wrapper.

Some things on top of my shooting table. This table should be kept clean and clear at all times. Pink cutting mat to protect the table when cutting things with a blade. The cute mug was an SM Store find.

Vintage/distressed easel from Joann. I am using it first as an Ipad stand but will eventually hold a picture frame.

Another photo of my room. My desk is on the left.

I hope you enjoyed this virtual tour of half of my room. It is still a work in progress. I will be sure to upload more photos when  more things are added.