As I was driving through the slow-moving traffic in EDSA today, I couldn't help but see the dozens of billboards along the highway. Most, if not all of the billboards in the section between Greenhills and Camp Crame advertise products or services to enhance beauty, maintain youth or achieve a slimmer figure. These inspired me to come up with this blog post.
I am sure that the endorsers of these beauty products and services (Belo Medical, Flawless, Cathy Valencia, Pond's, Olay) are good-looking, have great skin and have healthy bodies in real life but not as perfect as in the advertisements. They get a lot of help also from the team of stylists (hair, make-up, clothing) before and during the shoot. Post-shoot, any remaining blemishes, lines are removed and liquify are done by photo editors in Photoshop. The hard work of the stylists will go to waste if the photographer does not light the subject correctly for these photos.
Ever since I learned about light and seeing light, whenever I see a photo, the first thing I see is how the photograph is lit. What is the light source? Where is the light source? I sometimes feel it is burden because I cannot turn it off and cannot, not see where the light is coming from. I don't know if I am making sense. Anyway, for beauty photos, these are usually front lit or flat lit with a large light source (strobe aka studio light attached to a soft box). I am sorry if I am getting technical. Front, soft lighting fills in all shadows on the entire face which smoothes out wrinkles and eliminates lines.
This post is not meant to be serious but a fun one so forget the technical stuff. Here is the fun part.
You will never see a beauty photo lit this way.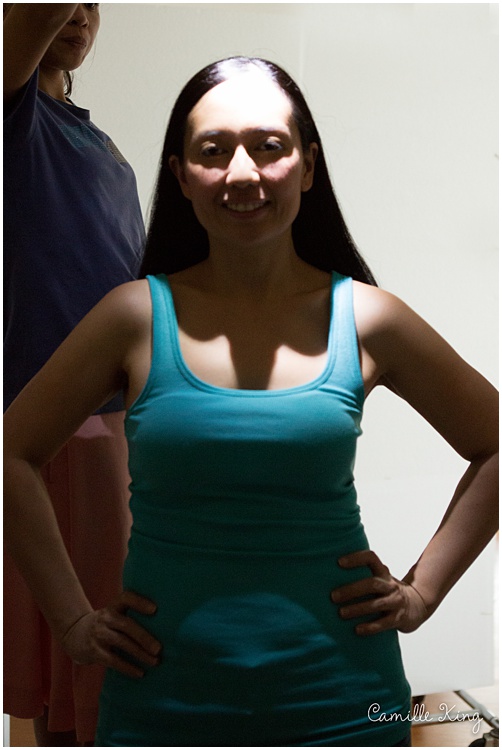 Ignore my helper in the background. I asked her to hold a flashlight at the top of my head to light me, the subject for this tutorial. This is an exaggeration so that you will see all the shadows – under my eyes (shadows cast by my brows, eyelashes), under my cheekbones, neck and chest (that is a funny looking shadow there, reminds me of…). I look older than I really am. Although this is an exaggeration, almost all indoor lighting are small and overhead (sad but true). The drop lighting in Starbucks and at your favorite restaurant are awful, unflattering overhead lights! Planning to taking a selfie at the beach at noon where the sun is highest? Uh-oh! Stop and think twice before taking that selfie in an overhead lighting situation.
Here is another photo with overhead lighting with less exaggerated shadows. Light source was the ceiling light. Shadows are similar to above but less pronounced.  My undereye circles and lines are visible here plus that funny looking shadow on my chest.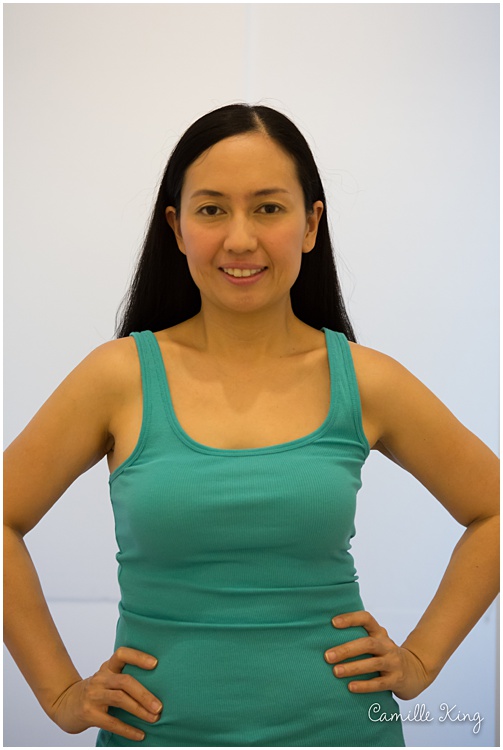 For a flattering photo like those images in beauty billboards, use flat lighting. Look for a large light source with no harsh light. A window is a good source for this (as long as there is not direct sunlight hitting the subject). See how much better I look in these photos. I positioned myself in front of a large window. The front-lighting removed all shadows and my skin looks smooth and blemish-free. I promise I did not use Photoshop skin smoothing here. This is all natural beauty. Haha!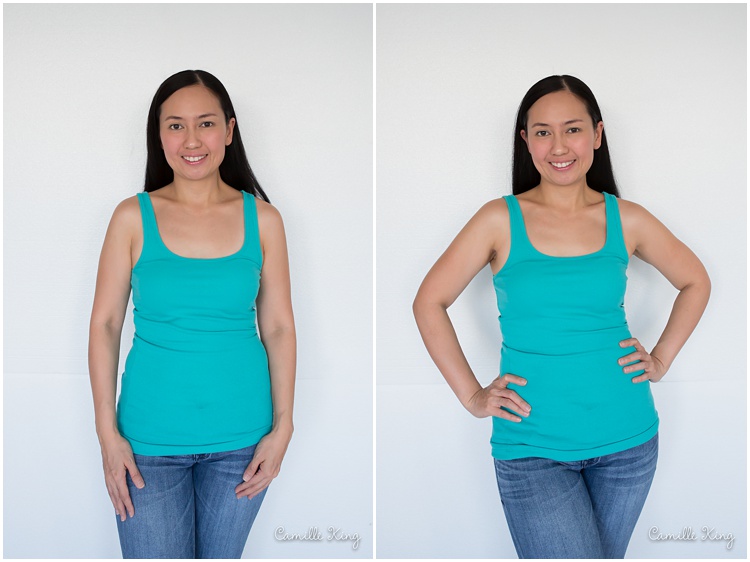 Easy right? To recap, for flattering photos like in beauty billboards, use flat flighting. No to overhead lighting! Note there are methods of lighting that can be used as well (backlit,  broad lighting, short lighting) but to simplify this tutorial, I am comparing only flat lighting and overhead lighting.
If flat lighting is better, why not use the flash in the camera to light the subject instead of using overhead lights? I guess the flash would look better but it is still a small light source which isn't flattering either. That is a totally different topic altogether which shall not be discussed here.
This next topic gets better so read through until the end.
Here are a few tips to instantly look slimmer in photos without Photoshop or cosmetic surgery. These tips and poses are for females.
The pose: body straight and facing the camera, arms down to the sides.

Tip 1: Take arms away from the body and place on waist as pictured below. This instantly slims the body. This pose can further improved. Read tips 2 and 3 below.

Tips 2 and 3: Place weight on the leg farthest from the camera and angle the body so it is not directly facing the camera. By angling the body, the viewer sees only a portion of the body instead of the entire width. I did two different angles here. Both work but I think the left photo has a more slimming effect.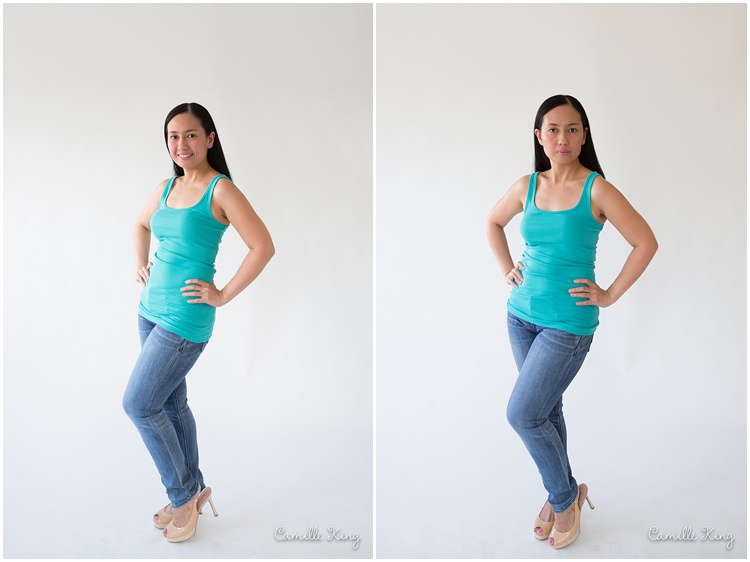 Tip 4: Try different poses to see what  works then practice. I think this is my best pose and angle. It won't break the internet though.

I hope you learned a few tips and tricks. I had so much fun doing this. It was a great reason to post photos of myself disguised as a tutorial.