This is the first halloween I am taking Sophia trick-or-treating since I left the workforce in August. I was working on halloween the years before. During those years, yaya accompanied Sophia. Oh, except for the year we were in California during halloween. I think that was two years ago.
This halloween is special so I  asked my cousin if we could join her and my niece, Kian, in the Ayala Alabang village trick or treat (where they live). The houses in Ayala Alabang are known for having really nice halloween decor. When I was a child, I used to go trick or treating with my cousins there. I got really special treats (imported ones like m&m's, Snickers). I also cannot forget that one halloween in Alabang when my uncle made a casket out of styrofoam. He would lie inside the casket then scare kids as they came to ask for treats. That was really fun!
Here are the two little monsters in their halloween garb. Kian was dressed as a demigod in training at Camp Half-blood which is from the Pearcy Jackson series of books. I had to google that information. Shhh. I know nothing about Camp Half-blood or Pearcy Jackson. Hello, generation gap! On this note, can anyone explain what a meme is?
As for Sophia, this is the first year that she wasn't dressed as a Disney princess. She said she was going to be a vampire  (which she says every year) but ended up being Clawdeen Wolfe from Monster High. I dont think she wants to look scary. I suggested a zombie but she didn't want to wear dirty clothes.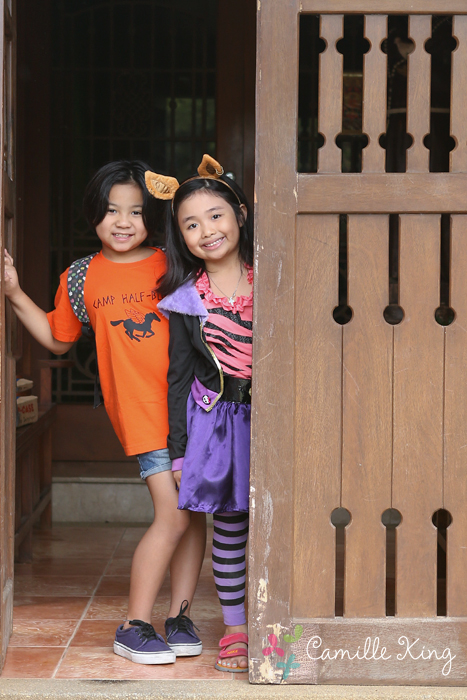 Photo-op with Kian's dog, Sushi.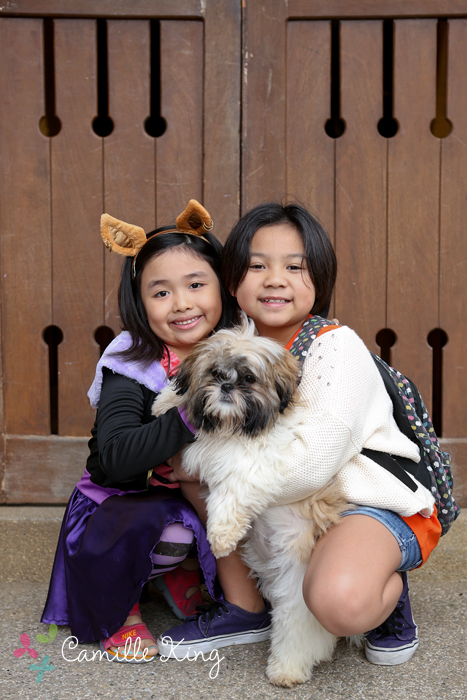 Sorry, no tricks or treats this year.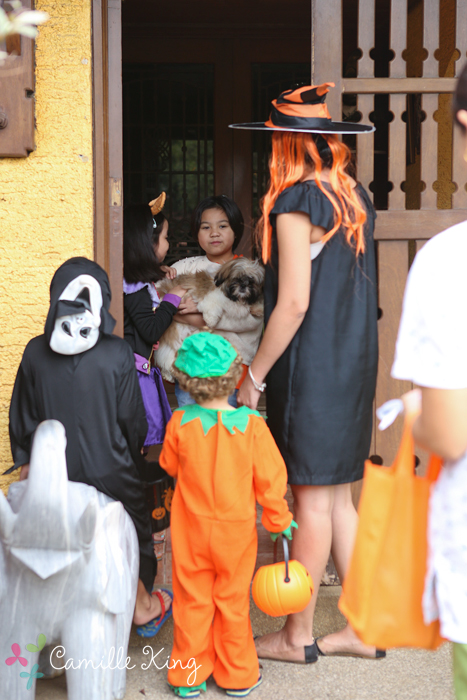 No wig because she hated it.

In their costumes with matching scary faces.


This is how trick-or-treating is done in the Philippines. We take the car to go around. This cute little green car was perfect. Aside from it being small, and can easily weave in and out of trick or treating traffic, it was easy for the girls to hop in and out of the car (as compared to an SUV).

Wheee! Trick-or-treating is so fun!

Selfie.


Sophia forgot the pumpkin basket for her loot at home so Kian lent her a purple bag. It matched Sophia's outfit.

The girls met interesting characters. Here is Bumblebee from Transformers. He went around the subdivision in a golf cart.

The girls loved this headless man.

Trick-or-treating in the Philippines is different from what I experienced in the United States. Here, treats are displayed by the gate of the house. Kids just walk up to the one handing-out the treats. Sometimes the kids don't even go down from the car. They just hand their treat bag through the open window of the vehicle.
In the United States (at least what I experienced), trick-or-treaters walk up to the front door and ring the doorbell for treats. What I loved about trick-or-treating in the United States was that I thought that all the treats we got are imported but are really local (m&ms, Reese's, Snickers). Yum!
Sophia's bag was starting to fill-up.

Kian checking out her loot. She doesn't look too happy.

Sophia's loot. Considering that we went to so many houses, she got only these (and no imported ones). I snatched the three pieces of Flat Tops before taking this photo.

The girls really had lots of fun though.