I missed so many blog circle posts that I lost count. I am happy to be participating again this month in this collaborative photography project. We are a group of photographers who met through a Clickin Moms workshop last year. With this project, we hope to continue to grow creatively with our photography and spread the talents of this group to the world.
Each month, we focus on each one's interpretation of a subject and technique. This month's theme is food and flare. Please follow along the blog circle to see the different interpretations of the theme. Next up in the circle is my friend, Stefanie Harrington, from Washington D.C. I absolutely love her photos. She is great cook too so she shares a lot of recipes (with photos of course!) in her blog. Please click here to see her interpretation of food and flare.
It was challenging to put food and flare together in one photo. I couldn't get photograph them at the same time due to timing.
Flare refers to lens flare. Lens flare is achieved when the rays of the sun (or other light source, may be artificial) enter the lens and hits the camera's sensor. I cannot explain it scientifically so here is an example of flare taken with my iPhone, one morning. The flare in this photo is the roundish, green and red colored spots on the rays of the sun.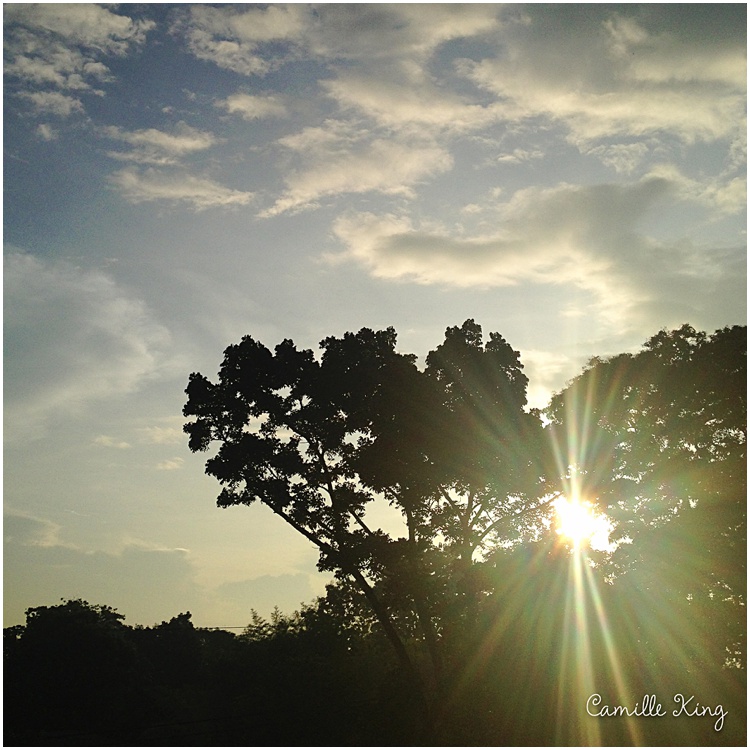 I have been trying out food photography lately. I actually baked and photographed a chocolate cake. If you missed that one, click here. I also did a post on how to make cappuccino. Whenever I take photos of food, I end up eating it. So, I decided to take photos of something low-fat and healthy for this post – Cucumber and Mango shake.
I know that juicing is better than blending but I like making fruit and vegetable shakes to simulate the texture of a Starbucks Frappuccino. I stopped drinking Frappuccinos about a year ago and this is what I replaced it with.
I sliced the cucumber for the photo since I did not like the way the cucumber looked whole. Lol! Philippine Mangoes are the best and exported to other countries.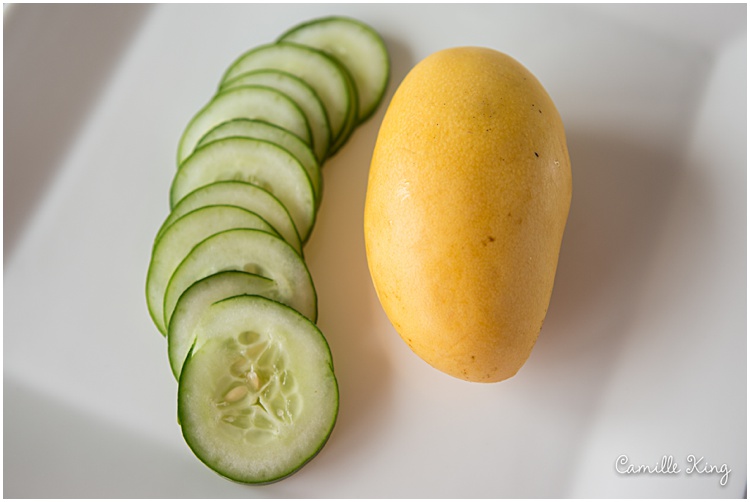 Cucumber and sliced mangoes.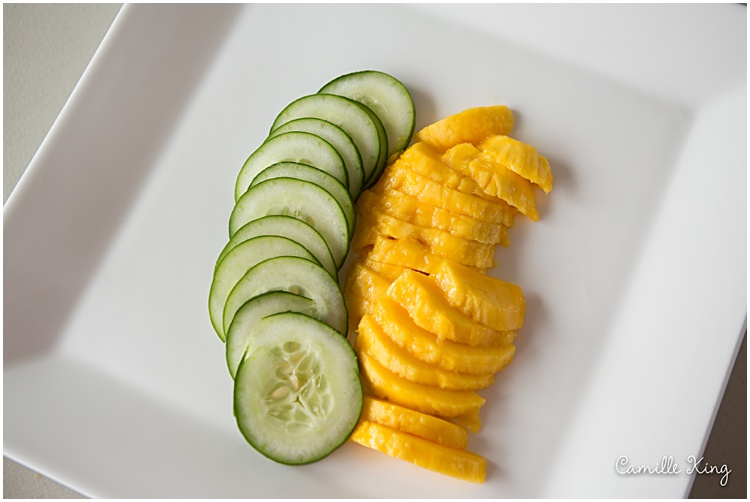 Place ice cubes, cucumber and a little in water in blender. I use a Blendtec.


I placed the blender in the floor because the electrical cord is too short. It won't reach the outlet from where I was shooting. Notice the yellow tape with 110V indicated. My mom bought the Blendtec from the United States so it uses 110V. In the Philippines, electrical outlets are 220V. We have both at home but we have to be careful not to plug in any 110V appliance into a 220V outlet.  We destroyed several appliances by plugging into the higher voltage.

Pour the blended ice, cucumber and water into a glass.

Do the same blending process with the mangoes.

I blended the cucumber and mangoes separately. I have two jars for the Blendtec so I did not have to do any washing after blending the cucumber.


Pour the mango mixture on top of the cucumber mixture. I did not add sugar or artificial sweeteners.

Add a straw and enjoy!
I was not able to photograph food and flare together because that is how I view them – separately! Heehee!