As soon as I saw the wall of Christmas lights at my neighbor's house, I knew I had to take a photo of Sophia with the lights in the background. I envisioned bokeh which I achieved here. Bokeh is defined as out of focus or blurred points of light.
I don't know what time the neighbor turns on these lights but I was hoping before complete darkness so I did not have to use flash. I took a nap this afternoon and woke up later than expected. It was dark and had no choice but to use the speedlight. I manually set the exposure of the camera at home by estimating the settings based on the aperture (opening of the lens) I wanted to use. I knew had to use a wide opening to achieve Bokeh. I attached the speed light to the camera and the Gary Fong lightsphere to the speedlight.
I took several test images to see if I got the bokeh I wanted. I had to move Sophia away from the wall to get large bokeh. I had some light from a streetlight that lit her face a bit. It was coming from camera left therefore some shadowing on the left side of her neck. I didn't want to use strong flash so it won't look flashy. Sorry, technical stuff so I won't discuss further.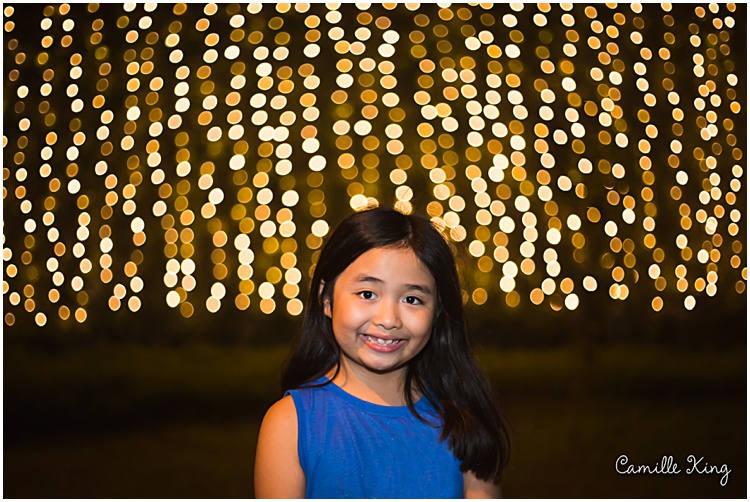 Overall, I am happy with the way it turned out. The lights and bokeh are so festive. I am still going to repeat this exercise when we are not in a rush (Sophia has to study for exams). I will implement the following changes:
Bring a stool for Sophia to stand on. This way the lights will cover the entire background when she is elevated
Practice more with the speed light and balance the available light to eliminate the distracting shadows on her face
Comb her hair and tie her hair back
Choose a red outfit for her for a more Christmas feel