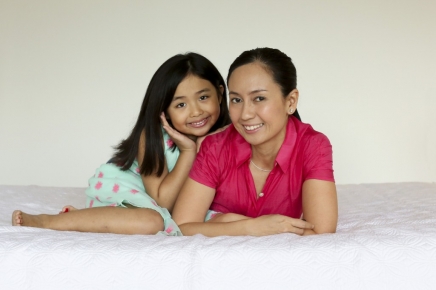 Hello! Welcome to my online scrapbook!
That's me, Camille, with my daughter, Sophia. I also go by the name Cam with a cam for Camille with a camera.
I purchased my first DSLR camera when my daughter was born seven years ago. Although I only learned how to get off automatic mode three years ago when I joined Leo Castillo's Photoworks classes at a physical classroom.  I was featured as a graduate of Photoworks and you may read all about me here.  A year later, I signed up for Karen Russel's online photography workshop at Snapshots of a Good Life. Learning never stops so I continuously take online workshops at Clickin Moms.
I was a scrapbooker years before I got into photography. They definitely go hand-in-hand. Instead of traditional scrapbooking though where paper and glue are used, I document memories online.
Through photography and this blogsite, I capture and preserve memories not only of special occasions but of the everyday. Life goes by so quickly and I want to remember the little things. My daughter is my favorite subject. On occasion, I share photos of family and friends who give me the privilege of photographing them.
Feel free to browse the pages of my scrapbook. You will find that Sophia and I love pink, girly stuff. Coffee makes my day. We love shoes, bags, shopping and crafts too.
I currently accept a very limited number of portrait sessions. If you like my style and would like me to take photos of your family, get in touch me with me here.
Thanks so much for dropping by!