I am often asked how I take portraits so I am sharing a step-by-step tutorial. This is how I do it. Other photographers may have a different workflow. The steps are not cast in stone and I may mix them up depending on the situation.
STEP 1: FIND A COOPERATIVE SUBJECT.
Sophia. She isn't always cooperative so I have to plead, bribe or threaten. Sometimes all of the above.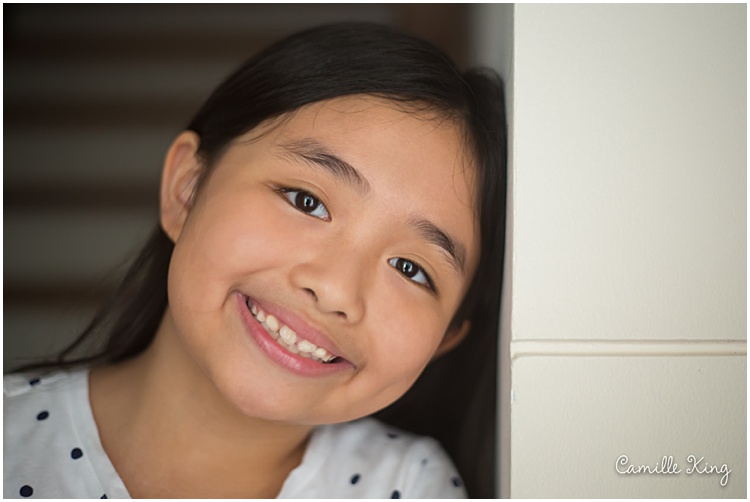 STEP 2: FIND OR CREATE A LIGHT SOURCE.
The word photography comes from Greek words. Photos means light and graphe means drawing. Photography means drawing with light. Photography is more about the light than the camera. Wink. Wink.
For the following set of photos,  I used natural light from the windows behind. Turn off all artificial lights.
Here is a pullback shot taken with my iPhone. Although I know how to use a speed light (an external flash) and strobes (studio lights), I prefer natural light. For my type of shooting, there is no time to set-up equipment when moments are unfolding before me.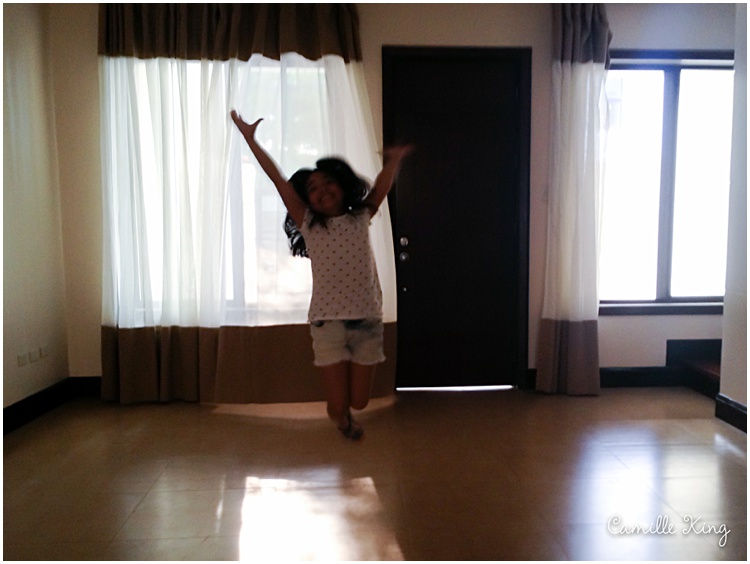 STEP 3: GRAB A CAMERA
Although I used a Canon 5d MarkIII for all these photos, a camera phone will work. Remember, photography is not about the camera gear. It is about using light. The photo on the left was taken with the Canon 5D. The photo on the right was taken with an iPhone 4S. I prefer the iPhone photo here because Sophia's face is lit much better. See? It isn't about the camera. Of course, an iPhone camera does have limitations. One limitation is that it cannot freeze motion in low light (like photo above where Sophia is out of focus/blurry).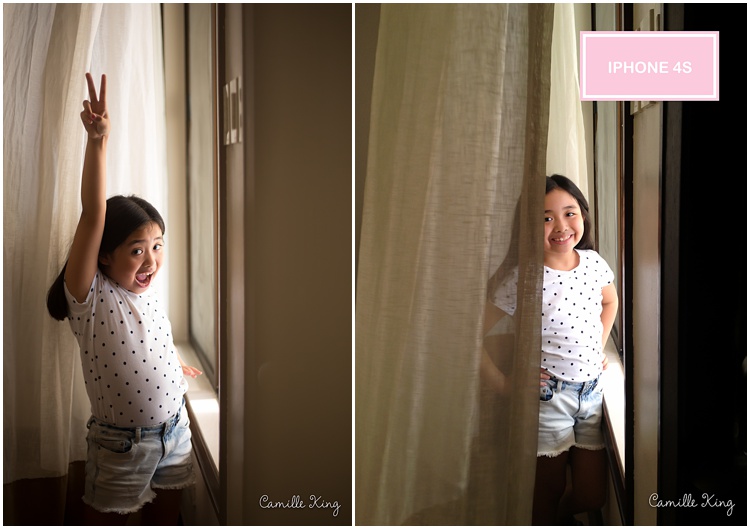 STEP 4: POSITION YOUR SUBJECT IN RELATION TO THE LIGHT SOURCE
There are different ways of lighting a subject. Examples are below. Note that there is no right or wrong way. It depends on the photographer's vision and personal preference.
Side-lighting.I used the left window in all the photo below (refer to pullback shot in step 2). She is facing the camera and the light source (window) is to her side. In this photo, the light source is camera right.

Backlighting. For this next image, I used the window on the right (refer to pullback shot in Step 2). It means that the light source is behind the subject.

Front-lighting. I used the same window as previous photo but these are front-lit.

STEP 5: ENGAGE WITH YOUR SUBJECT AND TAKE THE PHOTOS.
Talk with your subject, ask questions to avoid cheesy smiles. Lately, I have been getting cheesy smiles from Sophia. To avoid this, I make her laugh with a joke or ask her to be silly. Of course, exposure must be correct. I can't teach how to do this with a DSLR here in this post. However, I made a tutorial for an iPhone here.

STEP 6: EDIT PHOTOS.
Post-processing (aka editing) is just too much work and eats so much time. As much as possible, I get everything right in camera. I edit images in lightroom – cropping, white balance correction, exposure adjustment, etc. Only minor edits are needed when everything is done right in camera.
For iPhone images I share on Instagram, I use Pic-Tap-Go for editing. I only use lights on, lights out, warm it up, cool it down, get faded neutral and brightside.
STEP 7: SHARE AND PRINT PHOTOS.
Share photos on social media. Don't forget to print photos and place them in albums, walls, frames.
Hope I was able to share some knowledge here. Here are the rest of the photos from the same afternoon.